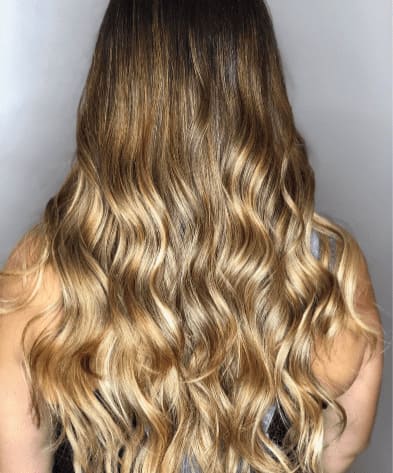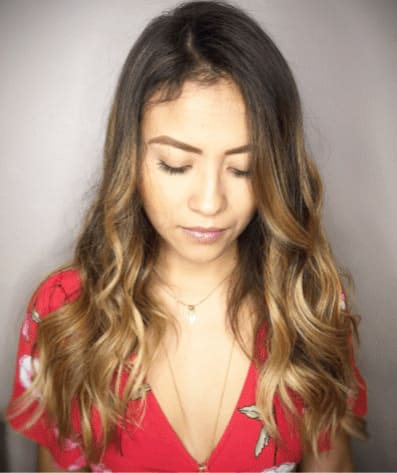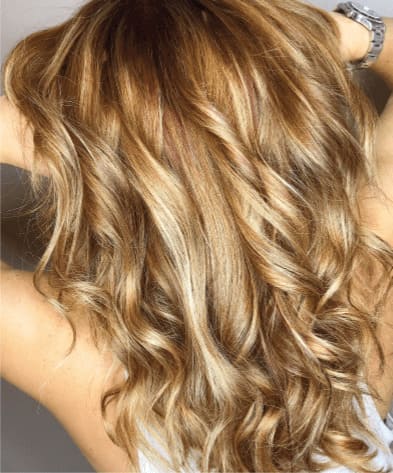 Balayage
BALAYAGE
The Difference Between Ombre and Balayage
We get asked what is the difference between an Ombre and a Balayage all the time at MaVo Hairlounge or we get an appointment request for an "ombre balayage" and we are over here thinking, "Well, which one?!" So once again, we are here to set the record straight and share with you the difference between the two styles.
Balayage is the "Technique"
The two are very similar, but there are very obvious distinctions between the two! The word "Balayage" comes from another French word meaning "to sweep". Now, if you have ever seen someone get a balayage in the salon, this probably makes sense to you. When applying the color for a balayage, you sweep the color through small triangle sections of the hair onto a board or foil, giving it the natural transition down into the lighter color. In Balayage, there are dark pieces left on the bottom
to create dimension and a more natural look. This technique looks like natural sun-kissed highlights throughout the hair. The transition is more natural and it is less maintenance than an ombre.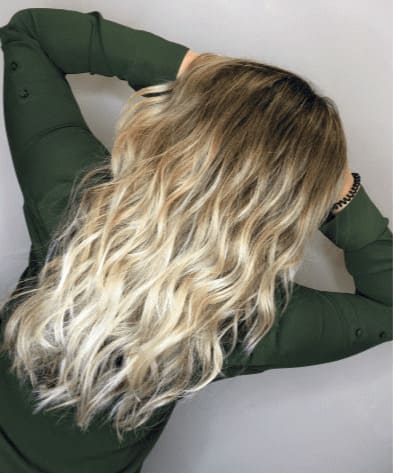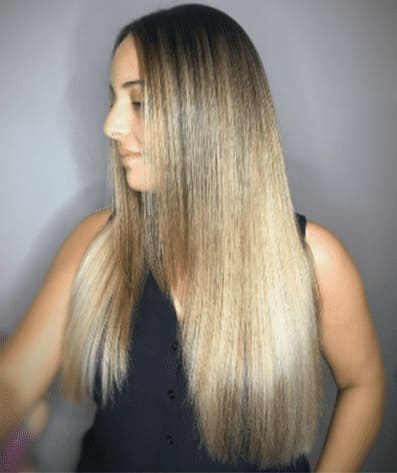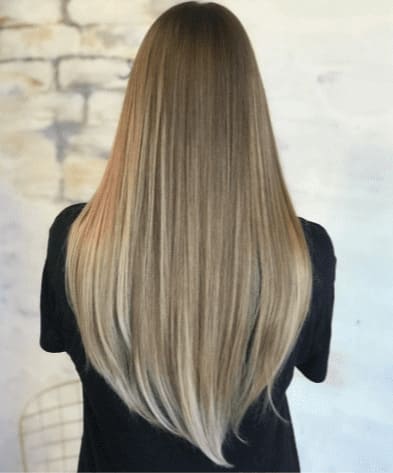 Ombre
Ombre
Ombre is the "Style"
The word ombre comes from the French word "shadow". Ombre is the actual style. It is the transition of a lighter shade from a darker shade.
Generally, ombres work best on brunettes because it is the least subtle of all the techniques, a sombre is what we would see on blondes. That technique is more subtle, hence the word sombre. Ombre is great for the more daring girl, it is definitely more noticeable and typically more maintenance. Ombre is kind of like color blocking, there are no dark pieces left on the bottom to help keep it natural, just a nice transition between the colors. While the ombre is a beautiful look, it
is also something that needs to be done right! A bad ombre can make all the difference and please don't try to do it on your own ladies! That's
the style called Homebre and no one wants that!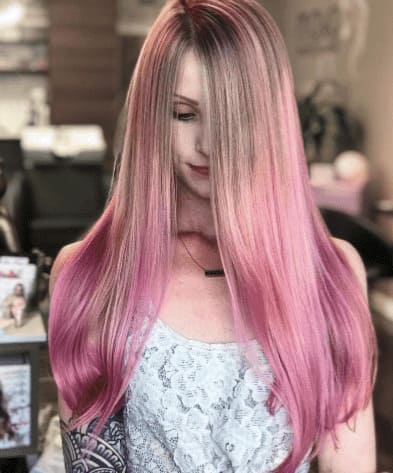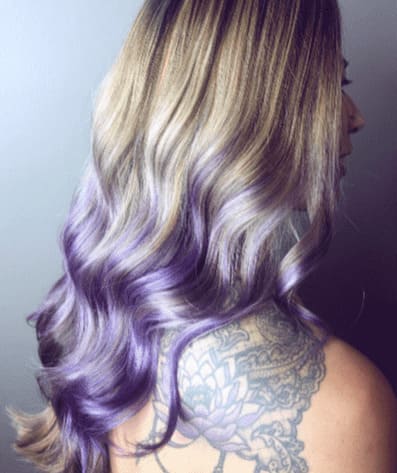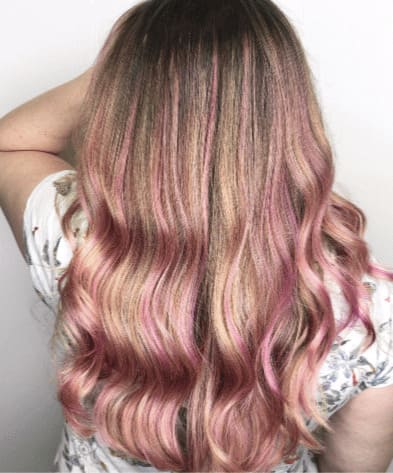 Vivid Ombre's
Other Similar Techniques
Vivid Ombre's
Hair Painting
Hair Painting is a huge trend right now with some of the more artistic stylists. With this technique, the hair is painted freely, by hand and usually with an actual paint brush and palette. Hair should be laid flat and is typically separated by plastic wrap. The lightener or color is usually not placed in any specific pattern but where it should be seen. The hard part about hair painting, is the stylist must have a super trained (or natural) eye for this kind of thing. This technique creates natural-looking and softer tones. Plus it is much faster than foils and there is no possibility of lines of demarcation! This Technique is best for Clients who are naturally very light already.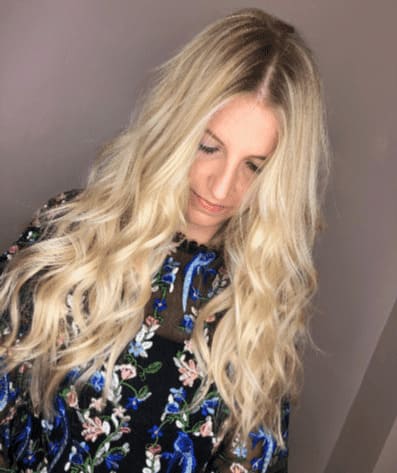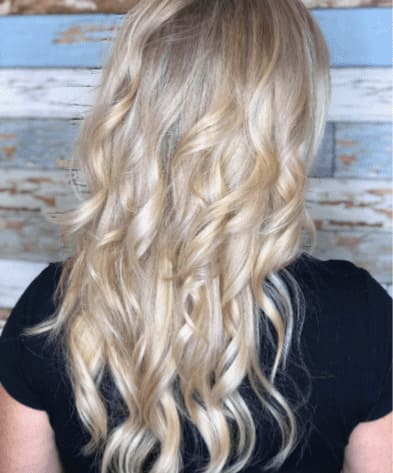 Babylights
Babylights
Babylights
Babylights are super subtle and delicate highlights created using a technique that mimics the subtle, dimensional hair color seen on children's hair. Hence "baby"lights. This look is very natural looking and creates the ultimate sun-kissed expression on the hair. This technique is very similar to highlights, with a touch of bayalage. The amount of hair in the foil is the main difference. Babylights require much less hair than traditional highlights. The result is subtle but beautiful and amazing for blonde on blonde dimension!
Foilyage
Foilyage is another new trend similar to the above techniques. The process essentially combines the way balayage is painted and the
vibrancy that foils achieves with the color. This technique is essentially the upgraded version on balayage and a saving grace for dark
hair since it incorporates foil (meaning you get more lift).

They said
"
Testimonials
I love Mavo hair lounge!! I wouldn't trust anyone else but Marina with my hair. I showed her a picture of what I wanted, yet somehow it turned out even better. I couldn't have been happier. I love Mavo hair lounge!! I wouldn't trust anyone else but Marina with my hair. I showed her a picture of what I wanted, yet somehow it turned out even better. I couldn't have been happier.
ANA H.
Testimonials
1 first discovered Mavo Hairlounge in 2016 and can honestly say Marina out does herself with every new salon she opens. The salon is instagram worthy and cozy. Her stylists are talented and so is she. Their prices are competitive. They give honest hair advice and arent just trying to sell you a product. I will continue to recommend Mavo Hairlounge to my friends.
PRISCILLA H.
Testimonials
This salon was amazing! I got my haircut by the owner and she was just simply wonderful. Very real and authentic which I appreciate so much. Thank you for the amazing experience
KOURTNEY M.
Testimonials
I had such a struggle finding a salon to do great blowouts for a reasonable cost. I have been loyal to Mavo now for the last 6 months. Hailey and Marissa are both phenomenal. They both went above and beyond. I've never had a disappointing experience. I will continue to recommend them to everyone!
ERIN S.
Testimonials
Recently had a great experience with Elana at Mavo! First time client at this salon. It's convenient for anyone in Downtown FTL… easy parking. Cute and clean studio. Good prices. I'm loving my haircut! Elana did a great job and suggested what would work with my hair type. Definitely the happiest l've been with my hair in 2-3 years. I'll be going back.
LISA D.
Testimonials
Love Mavo Hairlounge & her team! What a cute salon. Everyone is super kind, talented and besides a great atmosphere & service, they also serve bubbly champagne. I was even allowed to bring my little doggy with me. I used to see the owner Marina since several years but last time she was booked and I went to see Stylist Lena. She did a great kob aswell & is super sweet. I can highly recommend Mavo to everyone in the area and i'll be back for sure!
JENNA M.
Want to Schedule an Appointment?